Lake Gaston Rentals & Vacation Homes
Activities abound for everyone; both young and old discover a paradise for your vacation or year round living. Businesses around the lake provide for the needs of a waterfront community with quality products and services. Recreational, cultural and educational opportunities are available. And with easy access to the interstates, Lake Gaston offers a quieter paced lifestyle with just a short drive to all the benefits of urban living. Lake Gaston is roughly 35 miles long and covers over 20,000 acres with 350 miles of shoreline. In addition owning a Vaction Rental Home here has definite financial investment advantages.
Located on the Virginia/North Carolina border between Route 95 and Route 85, Lake Gaston's 20,300 acres encompass portions of Halifax, Northampton and Warren Counties in North Carolina and Brunswick and Mecklenburg Counties in Virginia. Our mild climate with an average winter temperature of 42.4 degrees and an average summer temperature of 76.5 degrees is the perfect vacation spot or for year round living.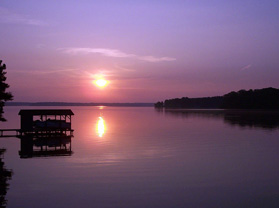 The lake was formed from impounding the Roanoke River and was constructed in 1963 by the Virginia Electric Power Company (VEPCO) as a result of building the Gaston Dam to generate electricity. The dam is located on the North Carolina side of the border and generates electricity for Dominion North Carolina Power (the North Carolina operating company of Dominion Resources). The dam includes four hydroelectric generators, with a total generating capacity of 224 megawatts. Lake Gaston is fed with water from Kerr Lake upstream and supplies water to the Roanoke Rapids Lake downstream, a smaller predecessor to Lake Gaston. This is one of the only areas of the country with three hydroelectric dams in such proximity.
The lake has been a popular retirement destination for seniors from all over the country since the 1970s. Retirees are drawn by the rural feel that permeates the lake area while maintaining proximity to larger cities.
You will never be dissapointed with the sunrises and sunsets when spending your vacation time at a Lake Gaston Vacation rental.
The lake has long been popular with fishers and other water recreation enthusiasts. The lake is not federally owned but rather owned by Dominion Resources. The lake is popular among many as a vacation spot because of its close location to the Research Triangle region of North Carolina and its proximity to I-85 and I-95. There are many homes on the favored parts of the lake that are available for Lake Gaston rentals.
Littleton is a town in Halifax County, North Carolina, United States. The population was 692 at the 2000 census. It is part of the Roanoke Rapids, North Carolina Micropolitan Statistical Area.
Littleton was named after William Little, a state senator at the time of founding. In 1882, Littleton College for women was founded with an initial enrollment of eleven students. The college became relatively successful with a peak enrollment of 285 in 1908. On January 22, 1919, the college was destroyed by fire, and without an endowment, it was never rebuilt.
Some famous residents of Littleton, N,C,
Willis Alston, born near Littleton, United States Congressman from North Carolina,
Ella Baker, Civil Rights leader, SNCC founder, grew up at her grandmother's house in Littleton
Wildlife/Fishing
Community Websites